John Elway Gives A Thumbs Up To Josh Freeman
March 26th, 2011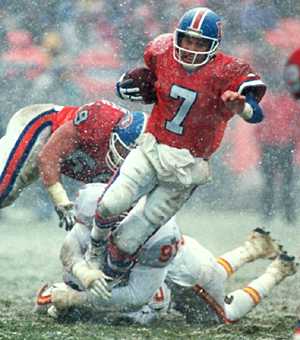 Who better to know a quarterback than a Super Bowl-winning quarterback?
Who better to know a quarterback than a Hall of Fame quarterback?
That's the case with former Broncos quarterback John Elway. Now a president of the team, Elway attended the NFL owners meetings in New Orleans recently where eye-RAH! Kaufman of the Tampa Tribune decided to corner a number of non-Bucs officials to gauge their take on the Bucs starting quarterback.
Count Elway among those who is impressed.
A first-round pick out of Kansas State in 2009, Freeman said his personal goal is to be compared with the game's elite quarterbacks – Tom Brady, Peyton Manning and Drew Brees.

Hall of Fame quarterback John Elway already likes what he sees.

"I'm really impressed with Josh Freeman," said Elway, the new executive VP of the Broncos. "I haven't met him, but from the way he plays, the Bucs definitely hit on him, that's for sure."
Among others Kaufman spoke with was Arizona Cardinals coach Ken Whisenhunt who claimed Freeman is special because of the way he is clutch late in games.
The interesting thing is that virtually every non-Bucs source eye-RAH! spoke with for the story raved about the way Raheem Morris has handled and nurtured Freeman.