Ryan Kerrigan Speaks
March 27th, 2011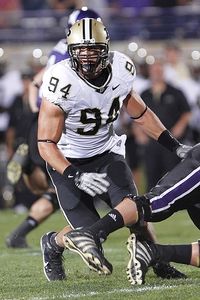 NFL Draft guru Justin "The Commish" Pawlowski, of WDAE-AM 620, recently grabbed some one-on-one time with top defensive end prospect Ryan Kerrigan, the production machine out of Perdue.
And being a multimedia guru, as well, The Commish had his fancy recording equipment on the scene and passed on some fans' questions to Kerrigan. The DE stud sounds like a mature dude, and we learn that he calls himself "relentless"  and his grandma lives in St. Pete, among other stuff.
Click the arrow to listen, or download here.
[audio: kerrigan.mp3]
Remember, Joe's draft coverage is just heating up. More to come all week and The Commish will soon kick off the popular Draft Countdown. Also, shoot The Commish your draft questions for his inbox podcast, commish@620wdae.com.