Win Stuff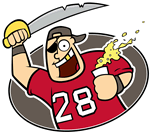 Joe loves to give away free stuff – tickets, food, memorabilia, etc.
Send Joe an e-mail to be alerted to the latest contests at JoeBucsFan.com. Joe won't share your e-mail with anyone too scary.
Win Tickets, Jerseys, and more great prizes!
Latest update – Jersey winners were announced and have been alerted. Make sure you "Like" the great Ed Morse dealerships linked below to win more great prizes.
This is so simple. Just "Like" the great Ed Morse dealers below on Facebook and you can be automatically entered to win Bucs prizes from JoeBucsFan and Ed Morse, and look for other prizes there too. Must be 21 or older with a valid driver's license to win.
Here are the fast links to "Like" Joe's friends at Brandon Auto Mall and Ed Morse Auto Plaza. …Like them now!
___________________________________________
Win an Earnest Graham jersey!
Just click below and "Like" Paradise Worldwide Transportation on Facebook and be registered to win a Reebok replica Earnest Graham jersey. It's the cool red one!
 Update: Nov. 1 – Congrats to Alex Sheffield of St. Pete. He took home the jersey. You can still "Like" Paradise. More giveaways coming later this year. And if you need a Tampa limo, Paradise is the only way to go.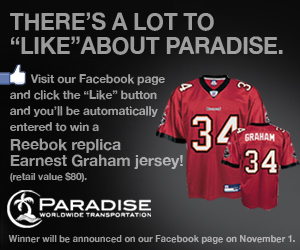 ___________________________________________
In September, JoeBucsFan.com teamed up with his good friends at Ed Morse Cadillac Tampa to put some Cadillac Williams jerseys in your hands.
Congratulations to Lisa Jones McWhirter and Philip McElroy, who were the winners!
This was simple.
Readers headed over to the Facebook page for Ed Morse Cadillac Tampa. There they clicked on the "Like" button at the top of the page and were automatically registered to win a Reebok replica Cadillac Williams jerseys (retail value $79 each).
Joe expects we'll do this again later this year. So don't hesitate to "Like" Ed Morse Cadillac Tampa to get in the mix.