"We're More Like A College Team Now"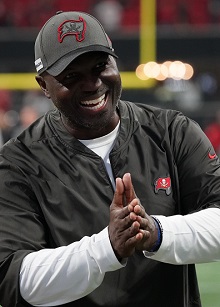 The Buccaneers' head coach does not hesitate to say he needed to put his stamp on the 2023 Bucs, in part by reworking the team's chemistry.
Multiple times Todd Bowles has said he needed to change "the culture, chemistry and camaraderie" in the wake of the Tom Brady era.
Yesterday on the Buccaneers Radio Network, Bowles explained how it's gone and that it's been successful and challenging with 13 rookies on the roster.
"Having all these new guys come in, you have to kind of try to change the culture a little bit; we're more like a college team now than an NFL team from a mentality standpoint at least, with these guys coming in," said "Big Balls" Bowles.

"So it was important for them to get around the vets that are still here and understand how to be a pro, but at the same time not take all their college youthfulness from them and make sure they enjoy playing the game. And making sure that they play the right way with the energy they bring, and not overload them with their brain cells exploded by giving them too much information.

"So that's a lot different and that's a lot of slippery slopes when there's 53 guys and you're trying to manage all the new guys. But I think the older guys have helped and the coaches have done a great job."
After one game of mistake-free football in hostile Minnesota with several rookies contributing, including Trey Palmer catching a touchdown and Cody Mauch shining at right guard, Bowles gets an "A" grade for his new-look, new-attitude Bucs.