Koetter, Evans Say Jameis Absence Was Felt Today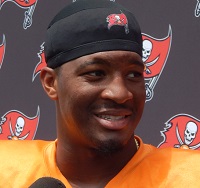 While the suspension of Jameis Winston started Saturday afternoon, it wasn't really felt until the team reported for practice today.
Joe asked Dirk Koetter today if it felt "weird" around headquarters without America's Quarterback.
"It was a little bit. You know, I think I noticed it the most when I walked in the quarterback room, when we broke down for individual meetings and went in the quarterback room.

"It's been a long time since Jameis hasn't been camped out up in the front row next to his computer. It was a little bit strange but we knew this was coming and now we just got to do it."
Mike Evans added that he was taken back when he pulled in to One Buc Palace today and Jameis' vehicle (from Joe's friends at Bill Currie Ford) wasn't there. Evans said the realization really hit him then since they usually park next to each other.