Join Joe
Look around.
Joe makes money selling advertising here and on JoeRaysFan.com.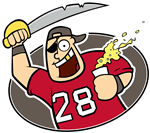 Joe is looking for hungry, experienced advertising salespeople who want to have fun and make big money and/or fast cash. 
You want in? Send Joe an e-mail and tell him what you bring to the table. Joe promises to be honest and professional, and he expects the same from you.
Salespeople are all-commission, independent contractors. We'll provide excellent sales support and some leads.  You'll do the rest. Commissions are excellent.