JoeBucsFan TV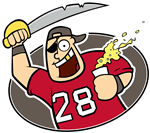 In February 2011, Joe rolled out the first takes of JoeBucsFan TV.
Hopefully, JoeBucsFan TV will entertain, inform, surprise, feature beautiful women and leave you wondering when Joe will take home his first Emmy award.
Here are some samples:
Watch inspiring and sizzling highlights from the Bucs' players-only minicamp in June.

Donald Penn, Josh Freeman, Jeff Faine, Gerald McCoy and Tanard Jackson uncut from the Bucs' players-only minicamp in Bradenton.

"The Commish," Justin Pawlowski, joins Sarah Tyson to offer insight from the sidelines at Bucs minicamp.

A case against Ruud, featuring Sarah Tyson and The Commish.

Joe blasts an epic verbal tirade against BSPN. (Safe for work)

Absolutely can't-miss Commish breakdown of Day 3 of the NFL Draft.

Draft guru Justin Pawlowski explains why Adrian Clayborn is "a mean MF."

In your face breakdown of potential Bucs defensive ends from draft guru Justin Pawlowski. Must watch all the way through!

Joe talks Internet maggots, Josh Freeman and Josh Johnson with former Bucs QB Jeff Carlson.

Quarterbacks and pro days. More entertaining draft coverage from Justin "The Commish" Pawlowski.