Year 4 Of Tristan Wirfs Envy
November 5th, 2023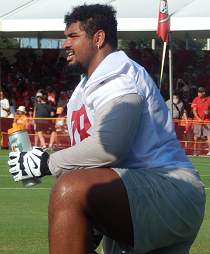 More insight here into Bucs general manager Jason Licht crushing the 2020 NFL Draft.
Forget about Licht's stud second-round-pick safety Antoine Winfield Jr for a minute, Joe is typing about right tackle/left tackle Tristan Wirfs, the first-round pick.
Joe heard quiet rumblings from Bucs staff members soon after Wirfs' arrival (once he was allowed on the field following "lockdowns") that he looked incredible.
Who wasn't gushing like that publicly was players.
Tom Brady had just arrived and the focus was on him. Plus, Wirfs hadn't played a real snap.
But behind the scenes was a different story. Former Bucs guard Ali Marpet reflected on Wirfs' arrival recently on the Buccaneers Radio Network. "Are you kidding me?" Marpet said, was his early impression on Wirfs.
In addition to Wirfs' physical power, Marpet said he quickly marveled — and was "jealous" — at Wirfs' pass protection setup and his raw talent.
Marpet called it "frustrating but fun to watch" because he was envious.
New Bucs right tackle Luke Goedeke went on to call Wirfs an "alien" and "pound for pound" the most athletic person he's ever known.
Joe loves all the Wirfs love. It makes it all the more amazing that for two years in a row the Bucs can't figure out how to run behind the guy for four yards per carry.