"YaYa Looks Like An Action Figure"
November 14th, 2023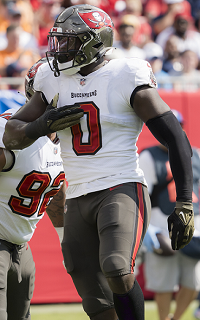 The Bucs have had some incredible physical specimens at the edge rusher position.
There was 2016 second-round pick Noah Spence, who looked carved out of stone. Jason Pierre-Paul was a renowned athletic freak before he got to Tampa, and who could forget Simeon Rice (2001-2006).
Now there's there growing profile of rookie YaYa Diaby, Tampa Bay's third-round pick. He measured 6-3, 263 pounds at the NFL Scouting Combine with a 37-inch vertical leap and a 4.51 40 yard dash.
The moment Joe first stood next to Diaby, Joe had the same thought Tristan Wirfs shared yesterday on the Buccaneers Radio Network.
"Yaya looks like an action figure. It's not fair," Wirfs said.
Much was made of Diaby playing more against the Titans, but that was overblown. He's played about the same amount all season. Entering last weekend, Diaby had averaged about 23 1/2 snaps per game. He got 27 on Sunday, with Todd Bowles citing Diaby being strong against the run and the Titans being a run-first team.
Regardless, with two sacks in his last three games, Diaby may be busting through his rookie learning curve and preparing to finish like a beast.
And he sure is a beast. Wirfs talked about how he realized that about Diaby in training camp.
A homegrown, exciting and rapidly developing rookie edge rusher is a rare thing in Bucs camp. Diaby could be that guy.