TV Map For Titans-Bucs
November 11th, 2023
Damn right tomorrow is a big game for the Bucs.
A loss tomorrow and next week at San Francisco and it's time for draft talk and CoachWatch.
But enough about that! The Bucs are only 1.5 games out of first place and it's not even Thanksgiving. So plan on where you will watch the Titans-Bucs game.
The game will be broadcast on CBS in most of Florida, all of Tennessee and some of the Tennessee Valley region.
Locally, the game is on WTSP-TV, Channel 10. Andrew Catalon, Tiki Barber, Matt Ryan and AJ Ross will handle the call.
For those who do not live in those areas, it's off to YouTubeTV.
Of course, Bucs fans can head to Big Storm Brewing in Ybor City or Big Storm's other taprooms in Odessa, Clearwater, Cape Coral and downtown Orlando at the Amway Center to catch the game. Naturally, visiting your neighborhood Hooters is always a wise move. Bonus: Select Hooters in Florida carry Big Storm Brewing beer on tap!
Enjoy!
CBS Sunday Broadcast Map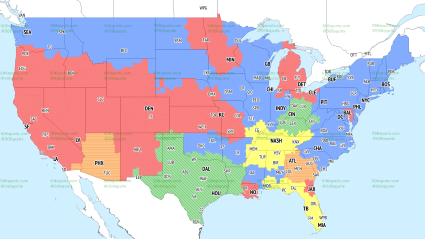 Yellow: Tennessee @ Tampa Bay
Blue: Green Bay @ Pittsburgh
Green: Houston @ Cincinnati
Red: Detroit @ LA Chargers (LATE)
Burnt Orange: Atlanta @ Arizona (LATE)
As always the TV map is courtesy of 506Sports.com.