TV Map For Bucs-49ers
November 18th, 2023
Podcast (bucs-kickoff-podcast-rock-riley): Play in new window | Download | Embed
Subscribe: RSS
Weird TV map this week for Bucs fans.
Bucs offensive coordinator Dave Canales said Sunday is a championship match, meaning how the Bucs play tomorrow will determine if they are pretenders or can seriously hang in the playoffs.
And the TV map for the Bucs-49ers game is all over the map.
If you live in Florida or west of Colorado, there is a decent chance you'll get to watch the game on your local FOX affiliate. Additionally, the game will be aired free in Houston, Nashville and most AFC North markets.
Why? Joe really doesn't know why.
Locally, the game is on WTVT-TV, Channel 13. Joe Davis, Daryl "Moose" Johnston and Pam Oliver will handle the call.
For those who do not live in those areas, it's off to YouTubeTV.
Of course, Bucs fans can head to Big Storm Brewing in Ybor City or Big Storm's other taprooms in Odessa, Clearwater, Cape Coral and downtown Orlando at the Amway Center to catch the game. Naturally, visiting your neighborhood Hooters is always a wise move. Bonus: Select Hooters in Florida carry Big Storm Brewing beer on tap!
Enjoy!
FOX Sunday Broadcast Map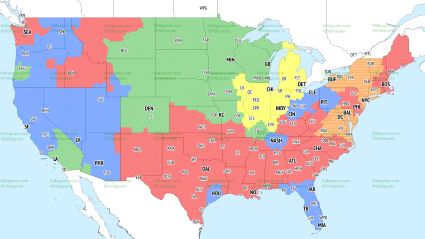 Blue: Tampa Bay @ San Francisco (LATE)
Red: Dallas @ Carolina
Green: LA Chargers @ Green Bay
Yellow: Chicago @ Detroit
Burnt Orange: NY Giants @ Washington
As always the TV map is courtesy of 506Sports.com.