Tristan Wirfs Now A Leaner 360 Pounds
November 17th, 2023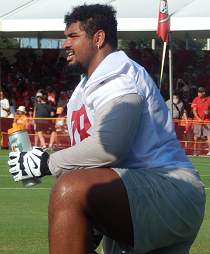 Consider Joe baffled that the Bucs can't figure out how to have a slightly below average rushing attack with an elite superstar monster of an athlete at left tackle who weighs 360 pounds.
That's right — 360!
Wirfs was on the Buccaneers Radio Network this week and refused to share his current weight. Wirfs joked that the official roster says he weighs 320 pounds, and he's sticking with that for the remainder of his career.
Well, it's been obvous to Joe that Wirfs has been in the 350-pound range. No shame in that, and Joe has no idea why offensive linemen try to hide their weight. Big is beautiful!
Over at TheAthletic.com, writer and Pro Football Hall of Fame selector Dan Pompei penned a long feature this week on Wirfs that includes chatter about him remaking his body with help from Buccaneers staff this offseason.
Wirfs revealed the overhaul resulted in a leaner, meaner 360-pound animal.
"The result, he says, was losing nearly 10 pounds of fat and gaining 14 pounds of muscle. His body fat percentage decreased by 1 percent, and he now weighs a solid 360 pounds.

A fitter Wirfs should have been a more confident Wirfs. Training camp would be the time to show it.

Several times, he lined up in a right tackle stance at left tackle. He tried to focus on one issue at a time, consistently improve, and most importantly, not get frustrated.

"Every day, it was reassuring him, telling him his technique was getting better," [Offensive line coach Joe] Gilbert says. "I told him I didn't expect him to come out and be Joe Thomas right away. What helped is he's a humble guy. He came out every day like he was starting from scratch."
For those wondering, yes, Joe expects Vita Vea tips the scales a few pounds more than Wirfs.
Wow, 360 pounds for Wirfs. Joe sure hopes the Bucs land a beastly blocking tight end next season.