Todd Bowles: I Did "A Lot" Of Predraft Work On C.J. Stroud
November 5th, 2023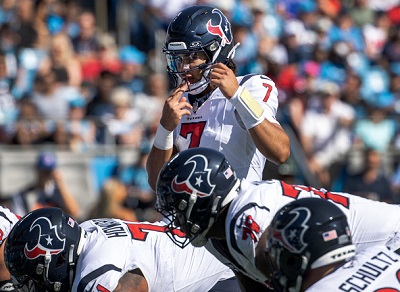 So what were the Bucs thinking about their quarterback position in January after the Tom Brady era ended with a whimper?
Joe knows fans will never know the whole truth, but perhaps a nugget slipped out when Todd Bowles was on SiriusXM NFL Radio recently.
Today the Bucs face the No. 2 overall pick in the 2023 NFL Draft and the second quarterback chosen, Texans QB C.J. Stroud.
Were the Bucs considering trading way up in the draft for Stroud?
Bowles was asked by Movin' The Chains co-host Pat Kirwan about what predraft work Bowles did on the Texans quarterback.
Somewhat surprisingly, Bowles didn't punt that question to the front office like he did a query last week on the Bucs' inactivity at this year's trade deadline.
Bowled replied that he did a lot of work with Stroud and "met him quite a few times" — when he took his own son to recruiting trips at Ohio State, where Stroud starred in college.
"I've talked to [Stroud] quite a bit," Bowles said. "I think he's a very sharp quarterback mentally. He can make all the throws. The game means something to him and he doesn't have the normal rookie mindset. He comes in and he knows he's the guy. He's worked to be the guy and he wants to be the guy, and I think that's showing up on [Texans] tape."
Was Bucs GM Jason Licht among those bidding in April with the Panthers, who traded up for the No. 1 overall pick? It sounds like Bowles would have blessed that decision if the target was Stroud.
Ira Kaufman Talks Winning Formula Against The Texans, Mayfield Math, Kyle Trask Math, The Mike Evans Approach, Sunday Predictions & More