Texans 39, Buccaneers 37
November 5th, 2023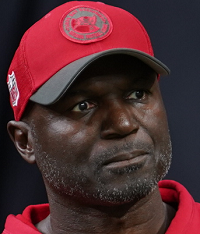 What a choke job!
How about that heinous Bucs defense. It was historically bad today in an ugly groin-stomp of a loss that shouldn't have been.
It was sort of fun being in a roller coaster shootout, but that's where Joe's fun ends and the Tampa Bay nightmare begins.
If Todd Bowles' star-studded defense can't stop a rookie quarterback — and allows him an NFL record 470 yards and five toucdowns — then what good is Todd Bowles as a head coach?
The Bucs are now 3-5, as the Falcons fell to 4-5 and the Saints grabbed the NFC South lead at 5-4.
Joe has mad love for Mike Evans' big plays in the fourth quarter. Forget the big touchdown bomb for a minute, Joe loved Evans recovering the ugly Trey Palmer fumble in the red zone on what should have been the Bucs' game-winning drive.
Pure hustle and heart. Evans ripped the ball from a Texans defender hustling for what would have been a game-winning recovery by Houston.
Joe also loved the massive strip-sack by Bucs sacks king Shaq Barrett late in the game to set up that Bucs drive, but it was all a waste of time.
C.J. Stroud was too much for the Bucs all day long. Carlton Davis might need a postgame trip to the burn unit at Tampa General.
Joe doesn't understand much of what the Bucs are doing on offense. They're not getting their best receivers involved early and there is no rhythm to the attack until the team is desperate.
The Bucs are bad and Joe is sad.