"Talent Doesn't Mean Anything If You Don't Do Your Job"
November 5th, 2023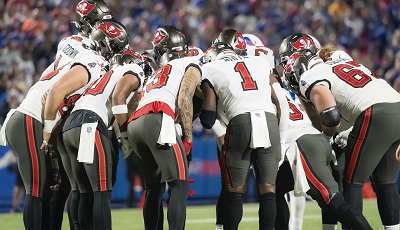 With the Bucs offense breaking out for 37 points today, despite often being out of rhythm and struggling to convert on third down (3-for-13), Joe wonders to whom Baker Mayfield was referring after the game.
In Mayfield's somber postgame news conference, he responded to a question with the following line of frustration.
"Talent doesn't mean anything if you don't do your job and execute," he said.
Of course, Mayfield is correct. But Joe wonders what Bucs were in Mayfield's head when he said it.
The Bucs scored on 7 of 11 offensive drives, but still the offense shot itself in the foot with penalties and too many negative plays. And there was was the colossal breakdowns of the Tampa Bay defense.
The Bucs are a talented group and Mayfield knows it. That's why they won in Minnesota (the Vikings are now 5-4) and in New Orleans (also 5-4).
And that's why Joe is so frustrated.
Relatively speaking, the Bucs are healthy, talented and led by seasoned coaches, and they're getting very solid quarterback play and superior kicking and punting, yet they still stink.
In between the white lines, talented defensive backs and pass rushers let the Bucs down today. It's starting to feel like a new group every week.