Ian Beckles: What You Think Of Baker Mayfield Is Probably Accurate
November 18th, 2023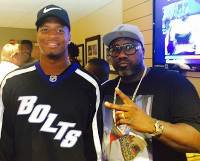 Yes, the Bucs have a 4-5 record. Yes, the Bucs have problems.
When former Bucs guard and popular local sports radio personality Ian Beckles looks at the team, he finds worse afflicting the roster than Bucs quarterback Baker Mayfield.
That's what Beckles explained on his podcast "In the Trenches" in the wake of the Bucs beating the Titans last Sunday.
"If you say he sucks you are right. If you say he is great you are right," Beckles said of Mayfield. "If you say he is good you are right. If you say — I don't know if there is a wrong answer, I really don't.

"Because Baker Mayfield shows you a little of everything in every single game. Every single game he will make you say, 'That's why he's not the guy.' He will also do something where you will say '[Geez], look at that!' or 'This guy is making us look better.' Or 'He can't make those long throws.'

"See how that just goes and up down? That's how his game goes. Up and down."
Beckles said the Bucs are like that as a team.
"At the end of it, we are just good enough to beat the teams that we beat," Beckles said. "We're a team that won one out of five games. That's all we are right now."
Other Beckles' tidbits:
Beckles is a huge, huge Mike Evans fan but believes Father Time has started his black magic on the Bucs' star receiver. Beckles was shocked that Evans confessed he dropped a can of corn touchdown because he was thinking of what fan to give the ball too.
"God bless him for his honesty," Beckles said. "I think he was being as honest as he could."
On Carlton Davis: "Carlton Davis was out. That is not a great look. We looked good yesterday in the defensive backfield for the most part."
On Antoine Winfield: "He was everywhere. He is around the football all the time. I think it is a beautiful thing."
On Cody Mauch: "Couple of times [Titans stud defensive tackle Jeffery] Simmons overpowered [Cody] Mauch. That's what happens people. He's a rookie. That's going to happen."
On the Bucs offense: "This team never comes out of the blocks offensively. That's game-planning. That's on [Bucs offensive coordinator Dave] Canales. We don't scare [anybody] coming out of the tunnel. … That puts a lot of pressure on the defense."
On the Bucs defense: "I still see them having troubles lining up defensively." (Beckles then cited Joe Tryon-Shoyinka being flagged for being offsides). You are halfway through the frickin' season and you're still having problems lining up defensively?"
Beckles believes the Bucs could have had six picks against Tennessee. In particular, Beckles liked how the Bucs snapped an 0-4 streak against rookie quarterbacks and had Tennessee QB Will Levis rattled.
"That looked like an old-school Bucs defense against a rookie quarterback," Beckles said.
On Jamel Dean: "Boy, if Dean was on the freaking market, Dean would get paid, I'll tell you right now. A big lockdown corner? He will get paid. Guaranteed. You better keep Jamel Dean."
Beckles believes overall, the Bucs are a tease.
"The Bucs are good enough you don't want to give up on," Beckles said. "And bad enough where you go, 'Well, that ain't gonna work.'"
On Kyle Trask: "If Kyle Trask was a seventh-round pick from Indiana, no one would be saying his name. But because he is a high draft pick from the University of Florida, that's why we are hearing his name. That's all. There is no other reason to be mentioning Kyle Trask's name any more. I'm being serious about that."
Beckles doesn't believe it's fair to complain about Canales: "He's a rookie. He's learning. I bet Bill Walsh didn't have nine good games when he first started calling plays."
Consider Beckles to be in the camp advocating Bucs coach Todd Bowles remain as head coach in 2024. "What kind of coach do you think we're going to get in here right now in this situation?" Beckles asked. "I don't know if this place is all that appealing [right now]."
The play of the game for Beckles? Simple, old offensive linemen love when linemen get to do something other than block. So he loved Tristan Wirfs' dragging a Tennessee defender some five yards on a fumble recovery.