Dave Canales: There Is A Reason Why The Bucs Are Trying To Build A Ground-And-Pound Offense
November 17th, 2023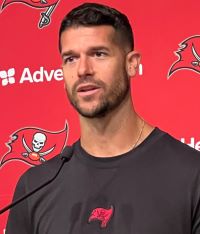 This saddens Joe.
Joe really, really, really believes the best way the Bucs can get points on the board (which, believe it or not, really is more important than the turnover battle or the number of runs-to-nowhere an offense accumulates in a game) is to throw the ball.
You have Mike Evans, a guy who Bucs offensive coordinator Dave Canales said is the best receiver he has ever worked with. That's quite a statement.
Then there is Chris Godwin, who just seems to Joe like he is being criminally underutilized. Even Godwin's former teammate, Cam Brate, took to local TV and begged the Bucs to run the offense "through Chris."
Hell, even Rachaad White, a misplaced slot receiver, is putting up receiving numbers that are damn near Pro Bowl level for a running back. Yeah, Joe typed that.
(He's turrible running the ball.)
So why let your best players rot on the vine? Why not use them?
Why not craft a gameplan around your most skilled weapons? Guys like Evans and Godwin don't come around every other year.
In the eyes of Canales, he doesn't believe you can win the NFC if you go through San Francisco, the Bucs' opponent on Sunday, and Philadelphia by throwing the ball. Even if you have the league's worst rushing attack.
Canales was asked Thursday about how many times he has faced a Kyle Shanahan-led 49ers given Canales' years with the Seahawks (something Joe wrote about yesterday).
"It does help," Canales said. "It helps to know where people are going to be at, and also knowing the style of defense and the way that they're structured and really how good they are in that front seven and how good they are in that front.

"There's a style that you have to play these guys. Again, it's like, if you're going to try and make it a dropback game from snap one, good luck. It's why we build the offense the way we do, so that you can have a chance to beat these really special defenses by being able to be balanced, mixing it the right way with the run game and the [play-]actions, the quick game, the empty stuff.

"You have to be really calculated with the shots you take, because you can't just got out there and think you're going to go bombs away against this group."
Well, here is the pothole in Canales' statement about being balanced. The Bucs are not balanced because they have no credible running back! They run for 3.1 yards a carry. Worst in the NFL in more than a decade.
How can you be balanced when your offense's skillset is so imbalanced? Shoot, even Warren Sharp documented how much better the Bucs are passing than running.
How in the world is Joe to expect the NFL's worst rushing team to do anything against arguably the NFL's best defensive front-seven? There are only so many snaps in a game. What is the point of wasting them?
There is a reason why the Bucs tried to sign a Jets reject running back this week.
This "balanced" talk make Joe want to tackle a Bill Currie Ford F-150 pickup truck on Dale Mabry Highway. Balance doesn't win games. Skillset and matchups and scheming plays wins games.
Like the late Mike Leach used to say about balanced offenses … the wishbone, when run right, was an absolutely devastating offense. And there was nothing remotely balanced about a wishbone.
Joe checked. Billy Sims is not coming out of that Bucs locker room on Sunday.
When the Bucs won 29 games combined in 2020-2021, which included a Super Bowl and an NFC South title, was that offense balanced? Not even close!