Contract Guru: "No Chance" Antoine Winfield Jr. Doesn't Surpass $20 Million Per Year
November 2nd, 2023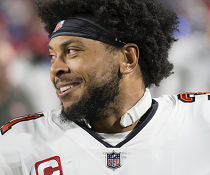 Four guys on the Bucs expect massive contracts this offseason.
There's Mike Evans, the greatest wide receiver in Bucs history, along with fading savior linebacker Devin White and safety Antoine Winfield Jr. All will be free agents after the season.
And then there's beastly left/right tackle Tristan Wirfs. In February, he'll be entering the final year of his rookie contract, a common time to give a superstar player a contract extension.
Mike Ginitti, a chief data guru at reliable NFL salary website Spotrac.com, hopped on WDAE radio this week and was pressed to share his thoughts on whether any of those players — or all? — might return to Tampa Bay next season.
Ginitti dropped one fat gem with his reply: He confessed that Spotrac has a salary algorithim that recently spit out a contract projection for Wirfs at $28 million per year.
Don't buy that massive number? Ginitti said the same Spotrac algorithm was dead on accurate predicting the five–year, $117.5 million contract extension given to New York Giants left tackle Andrew Thomas, who was in Wirfs' draft class.
Ginitti also said Winfield is a slam-dunk, top-of-the-market free agent.
"There's no chance Winfield doesn't surpass Derwin James here at $20 million a year," Ginitti said. "Top of the market guarantees and everything like that."
Joe took pause at these huge numbers. These guys are deserving, but damn.
Ginitti explained that a team paying a safety that kind of money is typically one ready to compete immediately.
Ginitti also added that White still has time to improve his season and command big money, based on other inside linebackers in recent. And he said Mike Evans could command $25 million per season on the market, similar to Stefon Diggs' new deal with the Bills.
Is it possible the Bucs wave goodbye to everyone but Wirfs and rebuild the team?