Concerning Devin White Grumbling
November 10th, 2023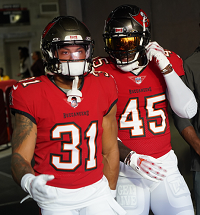 Joe's not going to say the Bucs' floor has caved in, but the wood sure is creaking.
Disappointing Devin White, the former savior Tampa Bay linebacker, is not the happiest man on the roster.
That was known in the winter when White demanded a trade, but yesterday White shared his current discontent. And it's not just about the team handing out losses like Jameis Winston dishes out interceptions.
White was asked to assess his performance this season, one that has disappointed Bucs fans, via the eye test and the stat sheet.
"I'm doing everything that the defense allows me to do," White said. "I'm really proud that I'm not out there, you know, playing not sound. I think that's the perfect [phrase] for it. I feel like I could do a lot more and I think like Coach Bowles is trying to, you know, find a way to get it. You know, just having (pause), people coming in and out of the lineup you got to do certain things. But, man, hopefully he find more ways to be even more creative and, you know, get everybody going including myself, just doing different things and confusing offenses. … There's a lot more work I could do and a lot more games we could win."
White sound happy to you?
To Joe, it sounds like White believes Todd Bowles isn't using him correctly and is subsequently limiting his output, which will hurt White in the wallet after this season.
Joe loves when players are candid, but in this case, Joe finds it alarming from a guy players voted captain.