Buccaneers Tickets For Under $30
November 10th, 2023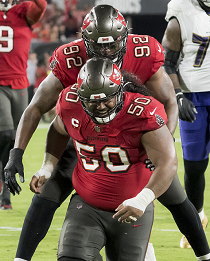 The only good news about the Buccaneers' four-game losing streak (unless you're one of those who roots for draft picks rather than division titles) is plummeting ticket demand at Tampa Bay home games.
Empty seats at The Licht House are a thing again and that means cheap tickets are available on the secondary market.
As of this afternoon typing, before Joe cracks open his third Big Storm Brewing Co. beer of the day, upper deck tickets for Sunday's Bucs-Titans game are available on Ticketmaster.com and StubHub starting at $28.00 each plus taxes and fees.
Throw in $20 for parking in a neighborhood near the stadium and $10 for a warm beer and you get to watch the greatest sport in the world for less than $60. Now that's a Black Friday deal!
The face value on those tickets is $70.00 plus tax and fees. So deep discounts are flowing.
Great opportunity to see the Bucs in person. Joe always loves attending games when there are no significant numbers of visiting fans invading the stadium. Tennessee will not be that team.