Another Glowing Todd Bowles Review Of YaYa Diaby
November 21st, 2023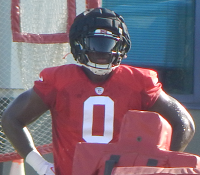 If you want to get Joe excited, serve Joe up a plate of Hooters Buffalo Shrimp with an ice cold Big Storm beer. Another way is by putting an exciting young pass rusher on the Buccaneers roster.
Rookie third-round pick YaYa Diaby is that guy. Third round!
He's coming on strong, two sacks and other plays made Sunday against the mighty 49ers. What Diaby flashed in preseason against future mail carriers, grad students and mattress movers is now showing up against beastly, established offensive linemen.
Joe checked in briefly to an insane asylum Sunday night after Diaby stayed on the bench far too long while never-been edge rusher Joe Tryon-Shoyinka got more snaps. Joe was flabbergasted. Had Todd Bowles eaten too much sourdough bread and dungeness crab on the left coast?
Regardless, Joe is nearly back to a healthy state of mind. And Bowles might be, too, per his comments to Dan Lucas of WFLA-TV, News Channel 8.
Lucas asked Bowles yesterday about Diaby. The coach, fresh off watching Sunday's game film, was glowing about his rookie, noting Diaby is one newbie that has figured things out faster than many others.
"He's hitting his stride right now. He's really in a good place," Bowles said of Diaby. "He's figured out the defense and he's playing faster and he's playing strong, and he's making plays."
Fantastic!
Now play the young man! Just roll with the hot hand. Bucs fans have seen enough of the cold hands.