49ers May Be "Complete" But Bucs Weren't Last Year
November 15th, 2023
So the Bucs have a helluva challenge on their hands this week.
The Bucs go to NoCal to face perhaps the best team in the NFC, the 49ers. Joe is hoping it will not be the 35-7 bloodbath it was there last year.
Yesterday, Bucs linebacker Lavonte David hopped on the "Jim Rome Show" heard on CBS Radio and seen on CBS Sports Network. There, David made no bones about it. The Niners, he said, are damn good.
"They are the most complete team we will see all season," David said. "They've got a couple of guys back in Trent [Williams] and Deebo Samuel. They are back to a complete team."
And they are a physical team. A very physical team. Last year Joe was at the Bucs-49ers game on a chilly, rainy Northern California afternoon. And man did the 49ers beat the Bucs up physically.
At one point, Joe thought the team either tuned Tom Brady out or just threw in the towel. Or both.
As Mike Ditka would say, the Bucs got the snot knocked out of them. It was the worst physical pounding Joe witnessed the Bucs absorb since they traveled to Minnesota in 2017 and about a third of the team seemed to have come back in a sling or a boot.
Evan Closky of WTSP-TV Channel 10 makes an interesting point. While David said the 49ers are a complete team, the Bucs last year when they played the 49ers were not a complete team.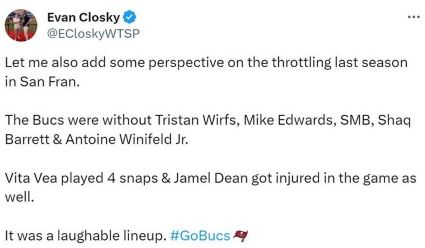 Of course, the Bucs will need all hands on deck for this one. San Francisco is dangerous in every way, offensively and defensively.
If Bucs offensive coordinator Dave Canales tries to run 25-30 times up the middle and not target Mike Evans or Chris Godwin much, the Bucs are doomed.
What disturbs Joe is that since the Bucs beat the Cowboys to open the season last year, every time they have faced a physical team (except for Tennessee on Sunday, which is downright terrible team) the Bucs had their lunch money taken from them and chased out of the park.
If Joe is to consider the Bucs a good team, not only do they have to win Sunday, the Bucs have to do some ass-kicking of their own.