"We Haven't Done Anything"
October 11th, 2023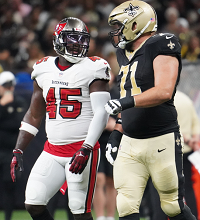 Those goofy orange uniforms, they don't mean much to Todd Bowles, as the head coach joins in solidarity with loads of Bucs fans under 30 years old.
The Creamsicles are fun for a lot of fans, and the Bucs will wear them Sunday against the Lions, but Bowles knows the colors in the threads are meaningless.
And he's not too impressed by his 3-1 record, either.
Those were messages from Bowles today at One Buc Palace.
"It's the second quarter [of the season]. You know, we haven't done anything. We went 3-1. That's it," Bowles said, shaking his head and almost sounding annoyed.

"That doesn't mean anything. Nobody remembers September once you get to December. We gotta take care of business. We gotta grind. We gotta work. We gotta scratch. We gotta claw. Creamsicles [are] nice for the fans. Even some of the players looked at it nice, but the game is played the same way. We're not going to win a game because we put on different color uniforms. We gotta get back to the grind."
Amen.
The Joe typing here is sick of all the Creamsicle hype. Team Glazer gets to sell a bunch of new gear and old dudes get to reminicse. Hooray! Pffft.
Sorry, memories of Trent Dilfer handing off to Eric Rhett, or the overall Craig Erickson experience are things Joe is trying to bury in the memory banks — just like the Bucs need to forget they're 3-1 and a feel-good NFL story.