Very Healthy Bucs (Minus 2)
October 12th, 2023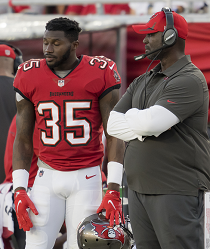 The bye week appears to have worked its magic.
Various banged up Buccaneers have make it through a full practice for consecutive days, including battered No. 2 cornerback Jamel Dean (neck/shoulder).
Only one player missed practice today, and that was Bucs sacks king Shaq Barrett, who was listed out with an "illness."
Mike Evans (hamstring) tested himself today and was "limited" in practice after sitting out on Wednesday.
That's about as healthy as a team will ever be in mid-October.