TV Map For Lions-Bucs
October 14th, 2023
Tomorrow is Creamsicle Day. Some Bucs fans have been waiting for this day forever, it seems. And a fair chunk of the nation can enjoy the creamsicles along with them.
The game was pushed to the convenient time of 4:25 p.m. Plenty of time to sleep in, head to your tailgate and get well-lubricated for kickoff, and still get home with plenty of time to sleep off the aftereffects.
The game will be aired on your local FOX affiliate — provided you live in the blue-shaded areas of the map below.
Locally, the game will be on WTVT-TV Channel 13. Adam Amin, Daryl Johnston and Pam Oliver will be on the call. For those outside the Tampa Bay market, your best shot at watching the Bucs free is if you live in the SEC footprint or you are in the upper Midwest.
For those who cannot get the game on their local FOX affiliates, it's off to YouTubeTV.
Of course, Bucs fans can head to Big Storm Brewing in Ybor City or Big Storm's other taprooms in Odessa, Clearwater, Cape Coral and downtown Orlando at the Amway Center to catch the game. And naturally, visiting your neighborhood Hooters is always a wise move. Bonus: Select Hooters in Florida carry Big Storm Brewing beer on tap!
Enjoy!
FOX 4 p.m. Broadcast Map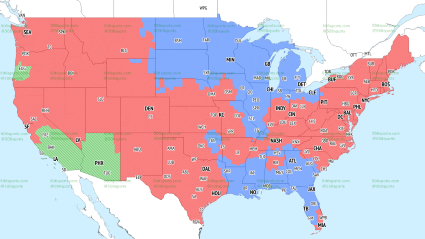 Blue: Detroit @ Tampa Bay
Red: Philadelphia @ NY Jets
Green: Arizona @ LA Rams
As always the TV map is courtesy of 506Sports.com.
Ira Kaufman Talks Locker Room Chatter At One Buc, Lions Game On Baker Mayfield's Back, Sunday Predictions, Jared Goff-Todd Bowles History, And More