Todd Bowles Declares "A Clunker"
October 16th, 2023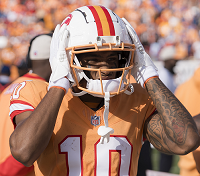 The film review is in!
Some good things on the field for Tampa Bay in the Bucs' whimpering, 20-6 loss to the Lions yesterday.
Todd Bowles had plenty of love for his edge rushers, Shaq Barrett and Joe Tryon-Shoyinka. There were other positives, too, but overall Bowles twice said at his Monday news conferenc that the Bucs "had a clunker yesterday."
First, "clunker" was in reference to the Tampa Bay offense and then it was about the overall result.
As a student of Bowles-speak, Joe gets a feeling that Bowles was not terribly upset by yesterday's game, and that he will extra quickly move on to the Falcons clash on Sunday. The Bucs' play in the trenches versus a physical Lions team was rather strong overall, Joe believes. If it had crumbled, then Joe thinks Bowles would have been far more upset than he is today.
Bowles' quarterback dropped a clunker, as did his No. 1 receiver. As a whole, the defense was strong holding the Lions to far below their season scoring average, despite being on the field too long because the offense was impotent.
Joe won't mention the Bucs' sad running game here because "clunker" is the norm for that group.