Time For Nine
October 20th, 2023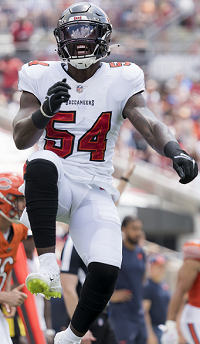 Here the come the Falcons.
Bad road team. Bad quarterback. Head coach with a sad résumé.
Joe threw "Time For Nine" as a headline. That's because the Falcons have lost eight consecutive road games, including one to the Bucs last season.
Falcons players were hit with that reality this week in their locker room and Joe didn't hear any good answers. The fun part of all this is that the sorry Atlanta road record also means their starting quarterback, 10-game veteran Desmond Ridder, has never won a road game.
Joe can't only chalk it up to bad luck. There's something about life away from the Falcons' soulless dome that makes them a different team.
Last year in Tampa, the Bucs jumped out to a 21-0 lead against the Falcons before taking their foot off the gas. After a late scare when officials erased a sack by Falcons defensive tackle Grady Jarrett, the Bucs held on to win 21-15.
If the Bucs can't be a few points better at home than this edition of the Falcons, 3-3 without beating a team with a winning record, then there's a real problem at One Buc Palace.