"They Really Can't Double Him Like They Used To"
October 9th, 2023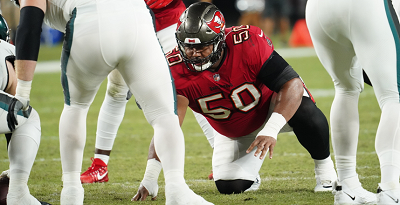 Vita Vea might have to go shopping for a thank you card.
The architect and executive producer of the swarming Tampa Bay defense, head coach Todd Bowles, was asked about Vea's early success this season in the sacks deparment. Vea has 3 1/2 through four games, a stunning pace for a defensive tackle.
Bowles said it ties to better play around Vea, he told the Buccaneers Radio Network. And one Vea teammate got a little more love than others: Logan Hall.
"Logan's running, he's getting off the ball a lot better now, so they really can't double [Vea] like they used to," Bowles said.
Hall leads Bucs defensive linemen in total snaps. So coaches certainly are seeing good things on film as the Bucs have other viable options at the position in Greg Gaines, Will Gholston and Mike Greene.
Another likely is returns to the lineup Sunday against the Lions, lightning-quick first round draft pick Calijah Kancey.
Kancey could/should help Vea continue his hot pace.