The Freight Train Lions
October 12th, 2023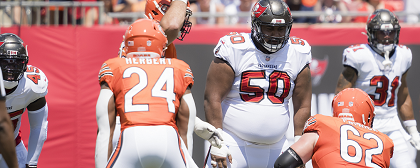 Yeah, the Lions are not an iconic NFL franchise.
In fact, they're the opposite.
The Bucs' Sunday opponent has a long history of misery. The Bucs had The Lost Decade (twice); the Lions have had worse.
But now the Lions are good really good. Joe trembles typing that this edition of the Lions has won 12 of its last 15 games. The three losses on that run are by a combined 17 points.
Some analysts call the 2023 Bucs "a tough out" because of their stoud defene and the talent pool across the roster. Well, if the Bucs are a tough out, then the Lions are that and more. They look legit with a seasoned quarterback enjoying the comfort of a second season in the offense — and a running game.
Joe loves where the Bucs are as a team, but it sort of feels like the Bucs are a half-season behind Detroit in the evolution of their team under Todd Bowles. Popular third-year Lions head coach Dan Campbell is in Year 3 of his reign. He started in 2021 with a 3-13-1 record. Then leverything came together halfway through last season.
Joe sees a freight train coming in the Lions, but Joe is confident Detroit will have a few hiccups this season. Why not Sunday?
The Bucs should be more than prepared coming off a bye week and, frankly, this game could have serious playoff tiebreaker implictations. There's no reason for the Bucs to come out flat.