Struggles At Punt Returner
October 31st, 2023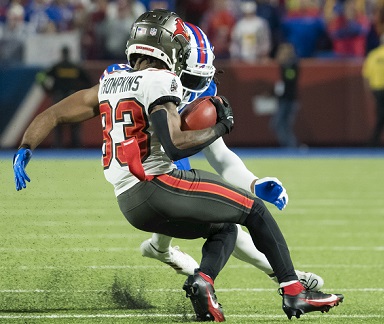 So where does Bucs punt returner Deven Thompkins rank among his full-time colleagues?
Cover your eyes.
this season. Thompkins is in that group and he ranks 27th in the league with a 5.1 yards-per-return average.
Years ago, Joe remembers having a chat with former Bucs receiver/returner Adam Humphries. His goal and the goal coaches set for Humphries was 10 yards per punt return. He averaged 9.9 yards per return in 2016, his rookie season.
Humphries did little punt returning the following season but picked it up again in 2018, when he averaged 6.6 yards per return and fans were on him for having no juice in that role.
Joe brings up Thompkins' return struggles today because Joe expects the Texans to punt often on Sunday when they face the Bucs.
Hopefully, Thompkins can bust out of his slump and spark the Tampa Bay offense with a strong return or two.
(For those wondering, former Bucs returner/receiver Jaelon Darden has 4 punt returns for the Browns this season for a total of 39 yards.)