Report: Hamstring MRI For Mike Evans
October 3rd, 2023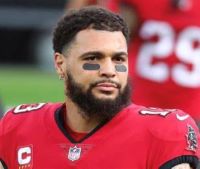 The word from longtime ESPN NFL reporter Jeremy Fowler is that Mike Evans is heading to the MRI chamber for a look at the hamstring he pulled/tweaked Sunday in New Orleans.
There was speculation after the game that Evans only had a mild injury, and Fowler echoed that this morning on X.
The bye week landed at just the right time for Evans, who is more than one-third of the way to his 10th consecutive 1,000-yard season with 14 games remaining.