Relying Too Much On Turnovers
October 9th, 2023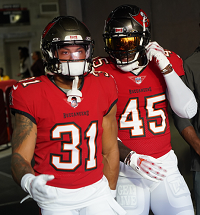 Through yesterday's NFL games, the Bucs rank second in the league in takeaways per game at 2 1/2. Only Buffalo is better.
Head coach Todd Bowles admitted recently that turnovers are very much out of a team's control. They can practice, practice, practice forcing takeaways but that may not mean a darn thing.
"I've had years when we've worked on [forcing turnovers] and we didn't get any," Bowles told the Buccaneers Radio Network.
Trying to punch balls out has been an emphasis throughout 2023, says Bowles and many Bucs defensive players.
Antoine Winfield doing just that at the Saints' 5 yard line last week was a perfect example of success, Bowles said. But Joe will note it was a bit of a one-play wonder after the Saints handed the ball off to a rarely-used fullback.
The Bucs forced only 20 turnovers last season after posting 29 in 2021. The team goal was to hit 30 last season and that's the goal again for 2023.
Tampa Bay has 10 forced turnovers this season with 13 games remaining and that pace is probably unsustainable. Dallas led the NFL last season with 33.
The legendary 2002 Bucs team had 38 forced turnovers during that regular season; this year's Bucs are on pace for 42 turnovers.
As Joe has written for years, forcing turnovers cannot be part of a winning strategy no matter how much coaches scream for them. Consistent play from all phases of the team is far more important.
The Bucs have eight forced turnovers in their three wins. They'll no doubt have to win games this season without forcing any.