Rachaad White Says He's Being Pushed To Run More Violently
October 6th, 2023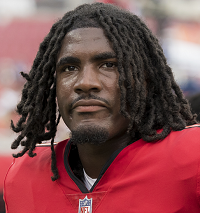 Joe now has a better understanding of why Tom Brady forged such a fast and tight bond with former Bucs running back LeGarrette Blount.
Blount, now 36 and retired, was an angry runner unafraid to use his size and became a Patriots icon because of it. He hammered his way to 19 rushing touchdowns through the 2016 season.
Joe's favorite Blount nugget was how 2012 Bucs head coach Greg Schiano didn't value Blount and buried him on the bench. Then Blount goes to New England a season later and becomes one of the top kick returners in the NFL while also running for 5.0 yards per carry and seven touchdowns. A classic Buccaneers move of The Lost Decade.
Current Bucs running back Rachaad White is a big dude for a running back, about 6-1, 225 pounds, but he runs more patiently and too often without a first-step ferocity.
Talking this week on the Fully Loaded podcast, White said he has been driven steadily at One Buc Palace to step up his physicality. White explained it comes from running backs coach Skip Peete.
"He be on me. Like I ain't going to lie. He be on me," White said of Peete. "[He'll say,] 'You're a big back, dude. You got bigger [in the offseason]. You're a big back.' … He loves it when I run like more angry and violent and things like that."
White also refelcted on Tom Brady's message that the guys lining up against you are trying to F you up, "so you F them up before they F you up."
Hit the hole, Rachaad!