QB Coach Calls Baker Mayfield's Strengths And Weaknesses
October 20th, 2023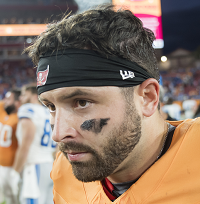 The Buccaneers' not-yet-the-franchise quarterback, Baker Mayfield, is being coached up on a daily basis.
Tampa Bay quarterbacks coach Thad Lewis was a guest on the team's official radio network this week and was asked to share Mayfield's strengths and what Baker needs to work on.
"Mayfield's biggest strength is he's very smart. He understands the system. He has command of it. You know once he knows it very good, he's going to execute it," Lewis began.

"The thing that I just have to continue to work on him is because of his grit and his excitement, just to get him not to go as fast. Sometimes he goes super fast. And, you know, just to get him to be smooth and slow down a little bit because you can just twitch up. And smooth is fast, and not being herky jerky. That's when he gets in trouble; he's a little herky jerky. But when he's smooth … I always just remind him, 'Hey, remember, smooth is fast.' When he's smooth, he's very unstoppable."
Joe heard that description of Mayfield getting a little too jacked up and it sounded like Jameis Winston, though Joe thinks the way Jameis got over-amped was more noticeable on the field.
In theory, Mayfield should play smoother over time; it's only been five games. But the stakes will get higher — starting Sunday against the Falcons — and it'll be interesting to see if Mayfield can stay composed as expectations and pressure rise.