Justin Jefferson Injury Highlights Mike Evans' Streak
October 10th, 2023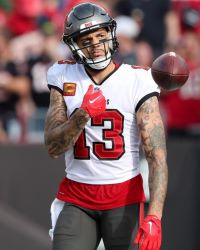 It's widely known that Mike Evans holds the NFL record for most consective seasons of 1,000 or more receiving yards to start a career.
Evans' streak is at nine and he's on pace for a 10th straight year.
Is the streak and a Super Bowl ring enough to get Evans into the Pro Football Hall of Fame if his career ended today? It's a fun discussion but a foolish one. Evans just turned 30 and has many years to go.
Word came out of Vikings camp yesterday that All-World, fourth-year receiver Justin Jefferson is about to be placed on injured reserve for a minimum of four weeks with a serious hamstring injury, and he might need much more than a month to recover.
Jefferson has had 1,000-plus years in each of his three seasons and he has a stunning 571 yards in five games this season. But the injury puts the streak in jeopardy. Plus, the Vikings' season is in the toilet at 1-4 and they may be in no rush to get their star receiver on the field.
Joe is very confident that as the years pass (decades?), Evans' accomplishment will look better and better on paper, especially in this new era of 17 games in a season.
For those wondering, Evans was working on his own hamstring issue yesterday at practice with a trainer. Evans left the Week 4 game in New Orleans in the second quarter with a hammy issue.
It's not considered serious but it's unclear if Evans will be able to play Sunday against Detroit, or even practice fully with teammates this week.