"It's A Great Team; Everybody's On The Same Page"
October 1st, 2023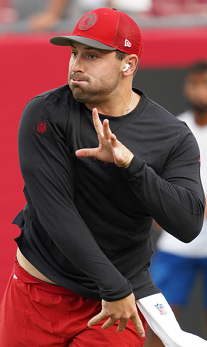 Baker Mayfield was asked an interesting question after today's blowout Bucs win in New Orleans.
It seemed to come from a Saints or national reporter.
"What do you attribute to the fact that you've had issues with turnovers but you've been fantastic this year? What has changed for you, and you're playing with obviously more confidence?
"It's a great team; Everbody's on the same page," Mayfield replied. "And just, everybody's doing their job. It comes down to little details when you're playing against a good team like [the Saints]. Obviously, I'd like to have that one throw (interception) back today, but that's a physical error. That wasn't anything mental. That was just a bad throw."
Intriguing answer. If Mayfield views the Bucs as "a great team" playing in unison, that surely will fuel his confidence.
Mayfield also added how well the Bucs are "paying attention in meetings [and] practice."
There were train wreck situations for Mayfield in Cleveland, at times, and certainly in Carolina. Joe assumes things were on solid ground for Mayfield with the Rams, but Joe has been told there was at least one signficant locker room issue there when Mayfield arrived late last season.
Perhaps Tampa Bay is the perfect clean slate for Mayfield, and a team still largely operating with Tom Brady-style professionalism in the building.