Heavy Hype
October 11th, 2023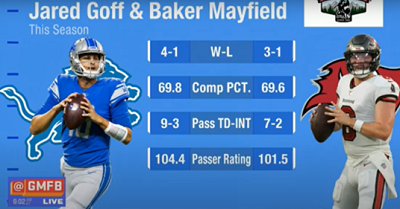 The NFL wants big-time ratings for Sunday's Bucs-Lions clash that was flexed from a 1 o'clock start to the 4:25 p.m. slot on FOX.
That's prime time for the TV networks, and that means NFL Network hype, in addition to FOX.
The image above is a screen shot from NFL Network this morning, part of a discussion on what team is a bigger story this season. "We can't get enough of these teams," said Good Morning Football co-host Colleen Wolfe. 
Joe had to laugh at that one, since it's obvious the loser of this game will be labeled a pretender by Monday morning. Co-host Peter Schrager actually said this game is defining for the Bucs — telling fans the result will reveal if "they're just a fun story coming off the bye or if they're the real deal."
Joe can't call this a line-in-the-sand game for the Bucs. It's early October and the team is still coming together — against a Lions club that jelled with a load of talent midway through last season. For Joe, the bigger defining game for the Bucs comes a week later against Atlanta at The Licht House.
If the Bucs aren't a pretender, they absolutely will take care of business against their division rival.
Regardless, Joe totally will enjoy all the hype leading up to Sunday. It's good prep for bigger games in December and January.