Halloween Lenny?
October 16th, 2023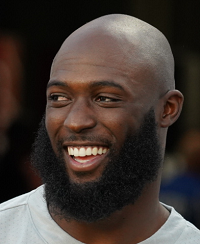 Todd Bowles was hit with a question about two Buccaneers greats today.
One was the man who had the most efficient season by a running back in franchise history: Ronald Jones. The mighty 2020 edition of RoJo averaged 5.1 yards per carry as a full-time running back with 192 carries. He's the only full-time Bucs RB to ever hit that mark in a season.
Joe knows a lot of fans forget RoJo was the team's RB1 in that glorious season until Leonard Fournette got hot late in December and morphed into "Playoff Lenny" and "Lombardi Lenny."
This year, the Bucs' running game is the NFL's worst, as it was last season.
Bowles was asked if he's considering RoJo of Playoff Lenny as potential practice squad additions since they are both free agents.
RoJo was cut by the Cowboys in September after serving a drug suspension. Playoff Lenny visited teams in free agency and likely was seeking too much money. He was rumored to be headed to Indianapolis in September, but then Colts 2020 third-round pick Zack Moss exploded.
Bowles said neither player is under consideration at this time.
Fournette, 28, was with the Bucs last season and struggled along with current Bucs running back Rachaad White. Fournette and the team waved goodbye soon after the season. RoJo, 26, has done little since leaving the Bucs after the 2021 season, though he did earn a Chiefs Super Bowl ring last season (17 carries, 70 yards and 1 TD).
Joe can't make a great case for the Bucs to add either running back, though it's possible each could be better than any running back currently on the roster.
If the Bucs can't snap their running-game blues in the next two games (10 total days), perhaps general manager Jason Licht does hit Fournette with a text. He was well-liked in the locker room and he sure has the postseason experience Tampa Bay may be craving come January.