Gameday (Outside) Tampa Bay
October 8th, 2023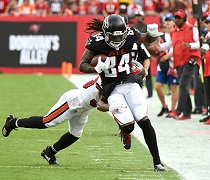 Joe's popcorn, Big Storm beer and Hooters buffalo shrimp will be on a glorious coffee table at 1 o'clock today for a feast of NFC South games.
The upstart Texans (2-2) with thriving rookie quarterback C.J. Stroud and quality defensive talent roll into Atlanta (2-2) to face the quarterback-challenged Falcons. The winless Panthers are in Detroit, where they'll be lucky not to lose by 14 or more points. And the slimy Saints (2-2) cruise into New England, where Bill Belicheat might be fighting for his New England coaching life with the 1-3 Patriots.
Again, all three games kick off at 1 p.m. So the division will have a very different look in a hurry.
Joe's money here would go on the Falcons to win and the Saints and Panthers to lose. Atlanta is a rough, loud venue for a rookie QB, and the Falcons have a load of playmakers. Do-it-all weapon Cordarrelle Patterson returns at full strength today after nursing a thigh injury.
Feel free to drop your thoughts in the comments below.
Joe is looking forward to being so damn satisfied if the Saints lose, although that would lead various clowns to bark about how the Bucs haven't beaten a winning team this season.