Falcons 16, Buccaneeers 13
October 22nd, 2023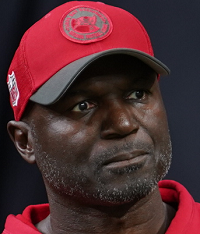 What a heart-attack inducing game by two teams that just weren't very good today.
Sadly, the Bucs were a tick worse the weaksauce Falcons. Tampa Bay fell to 3-3 and Atlanta now leads the division at 4-3.
The Bucs defense was opportunistic but way too porous and collapsed in crunch time.
Yeah, the defense only allowed 16 points, but Atlanta racking up over 400 yards of total offense is unacceptable with a second-rate quarterback and the Bucs at home. Yeah, a home game is supposed to mean something and the Bucs are now 1-3 this season at The Licht House.
Mike Evans' 85th career touchdown was a nice high point, and Joe had high hopes on the fourth-quarter, game-tying drive when Baker Mayfield scampered 31 yards for a key first down — on 3rd-and-10 — at the Atlanta 35 yard line. (Mayfield made a some new fans on that run.) But the red zone offense failed the Bucs (what else is new?) and they had to settle for a field goal to tie the game at 13.
The defense offered no resistance on the Falcons' final drive.
Three Falcons turnovers and the Bucs still couldn't score. Playcaller Dave Canales needs to look in the mirror.
Zero running game continues to dog the Tampa Bay offense. When's the last time a Bucs quarterback nearly led the team in rushing with 32 yards, like Mayfield did today? Bucs alleged RB1 had 13 carries for a dreary 34 yards.
Please, Jason Licht. Please address this horror of a run game!
Another day when Devin White didn't look special and the Bucs' run defense just isn't what it used to be, despite some good games this season.
Hat tip to Shaq Barrett for his big strip sack, but Joe is ready to vomit. Why? Because the Bucs just aren't very good right now.