Dual-Threat Baker Mayfield
October 19th, 2023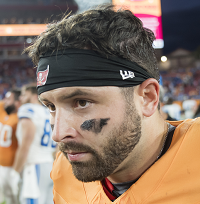 Defensive coordinators have sleepless nights thinking about Mike Evans and Chris Godwin. But Baker Mayfield's legs?
That was the message from Buccaneers QB coach Thad Lewis on the team's radio network this week. Lewis said Mayfield's scrambling has been effective enough to make defenses think and plan.
Yesterday, Todd Bowles was asked about the Bucs' offense allowing the fewest sacks in the NFL and the head coach quickly praised Mayfield's escapability for preventing sacks. Rightfully so.
On the rushing front, Mayfield is on pace this season for the most scrambling yards of his career.
Joe isn't going overboard on Mayfield's scrambling ability. It's nice, it's helped the Bucs win games and he likes like Michael Vick compared to Tom Brady, but 18 quarterbacks have run for a touchdown this season; Mayfield isn't one of them. And Mayfield's got the 18th most yards on the ground for QBs (67 yards), which isn't a scary number.
So Joe isn't sure Mayfield is changing defensive playcalling because of his legs, but he has been very effective on the ground.
One fun fact for Mayfield is he's averaging .7 yards after contact this season. Running back Rachaad White is at 1.2. Ke'Shawn Vaughn is at 1.0 yards after contact.