Chris Godwin Cited For Poor Technique On Hail Mary Miss
October 27th, 2023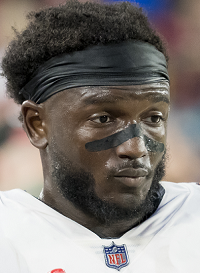 Too little too late for Chris Godwin on the game's final play last night.
Godwin ran into the end zone on the brilliant, 65-yards-in-the-air Hail Mary throw by Baker Mayfield last night with the Bucs trailing by six points and time expiring.
Godwin got two yards into the end zone and did a partial spin move on his defender and looked up for the football. It bounced next to him before he could get two his hands up and in position for a catch. Game over.
Former Bucs star receiver Keyshawn Johnson and Hall of Famer Michael Irvin broke down the play on FS1 this morning and Johnson called out Godwin for poor technique.
Johnson said he caught a couple of Hail Mary throws in his career and stated Godwin should have turned to track the ball no later than when he hit the goal line. Godwin waited until he got 1 1/2 steps into the end zone to turn.
Irvin, who loves to disagree, didn't dispute Johnson's claim.
Of course, Bucs tight end Cade Otton got mugged on the play by two Bills defensive players, but it's obvious the NFL doesn't care about the rules on those last-second plays.
Why is that? It's a great question.