Calijah Kancey "Finally Trending To Be 100 Percent"
October 5th, 2023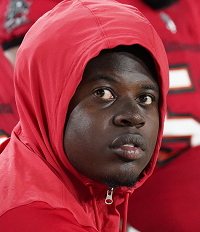 It sure sounds like the fury and speed that is first-round pick defensive tackle Calijah Kancey will be unleashed on the Detroit Lions when the Bucs next take the field on Oct. 15.
Kancey pulled a calf muscle in early August but got back on the field for opening day against Minnesota. He looked fantastic, including an early hit on Vikings QB Kirk Cousins that set a physical tone for the Bucs defense. But after 11 plays, Kancey's calf had a setback and he's been shelved ever since.
Buccaneers general manager Jason Licht told SiriusXM NFL Radio yesterday that Kancey is super close to full strength.
"Hopefully very soon we'll get Calijah out there …. he's finally trending to be 100 percent now very quickly," Licht said.
What a boon to the Bucs' pass rush it would be to have Kancey return. Yes, that's Joe speculating. Kancey only played 11 snaps but he looked so damn good.
Tampa Bay is tied for 11th in the NFL with 12 sacks.