Bucs Defense Ranks Seventh In Points Allowed
October 3rd, 2023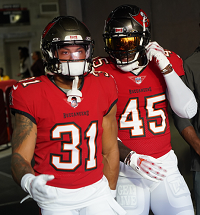 NFL history shows it's hard to have a crappy record with a top-10 defense in the category of points allowed.
Joe has scoured the data. A couple of five-win teams have been in that boat but most clubs finishing with a top-10 defense have at least seven or eight victories.
Through four games this sason, the Bucs have allowed the seventh-fewest points in the NFL. They've played a couple of powerful offenses and two weaksauce offenses, so the defense's ranking feels fair and balanced, Joe believes.
In yards allowed, the Bucs rank No. 15 overall, but they're No. 2 in forced turnovers and No. 3 in interceptions (thanks, Jameis!). That's been a huge difference-maker.
The run defense and pass defense have similar rankings. The Bucs rank tied for 14th in yards allowed per carry at 4.1. Tampa Bay's next opponent, the Lions, only allow 3.0 yards per carry, good for second best in the league. What a test that will be for Rachaad White and the rest of the struggling Bucs running backs.