Bucs Clinging To Final NFC Wild Card Spot
October 27th, 2023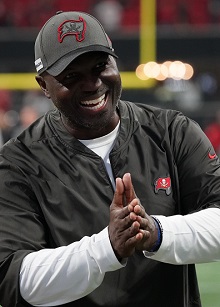 If the season ended today, would the Bucs be in the playoffs?
It's a stupid question because the season doesn't end today. However, the Bucs are tied with the Vikings, Saints, Rams and Commanders for the final NFC wild card spot.
All those teams have a 3-4 record.
Considering the Bucs have wins against the Vikings and Saints (also known as owning the postseason tiebreaker edge), and Tampa Bay has a better conference record than Washington and an equal one to the Rams, Joe will say the Bucs are in great position to cling to that final wild card spot deep into the holiday season.
Playoffs? Playoffs!!?? For this bad Bucs team? Absolutely.
At least one meh team is on track to quality for the NFC postseason. Why not the Bucs?