Bills 24, Buccaneers 18
October 26th, 2023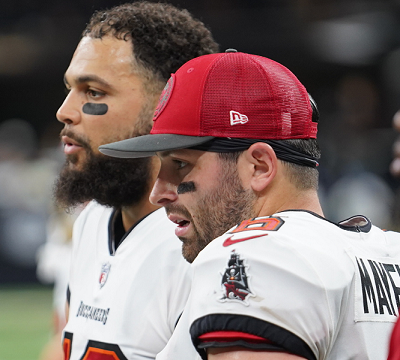 Tonight the Bucs couldn't stop the run or the pass, but otherwise the defense was on point.
As crazy as that sounds, it's sort of true.
Again the defense made big plays but it wasn't nearly enough as the offense didn't possess the pop to be dangerous. That's it; Joe believes the Bucs have found their 2023 identity.
Yeah, the Bucs scored 18 points, which improved their season average, but just about everything with the offense is a struggle. The running game stinks and there so little spark in the passing game. After Mike Evans, Chris Godwin and Rachaad White (as a receiver) there's a whole lot of nothing besides Baker Mayfield's heart.
Why the Bucs couldn't get Evans involved early in this game, Joe has no idea. Maybe the film will tell the story. But it makes no sense. Adapt, Dave Canales, start throwing underneath to Evans or take the short out throws to set up something more.
The Bucs continued their horrid third-down defense and their strong red zone defense. Josh Allen was a whopping 31-of-40 for 324 yards with 2 touchdowns and 1 interception. It was just too easy for Allen to carve up the Bucs' zone defense.
Outside of punting and the red zone defense, Joe's not sure what the Bucs do well as a unit.
Joe has to hand it to Mayfield for one hell of a Hail Mary throw that somehow bounced in the end zone to close the game. Did Bucs receivers lose it in the lights? Damn, that could have been one hell of a special ending.
Instead, Bucs fans got a piece of coal in their Trick-or-Treat bag.
At 3-4, the Bucs are in the playoff hunt. But that doesn't make them a good team.