Baker Mayfield Named A Bucs Captain
October 11th, 2023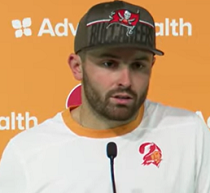 The votes are in.
NFL team captains traditionally are chosen on Labor Day, but head coach Todd Bowles stepped away from that this season. He didn't really give a firm reason.
Joe could speculate all day, but it would be pointless. Captains were named today after the locker room voted.
Per the Bucs, there are eight captains, an unusually high number. Mike Evans, Chris Godwin, Baker Mayfield and Tristan Wirfs are from the offense; and it's Lavonte David, Vita Vea, Devin White and Antoine Winfield Jr from the defense. Nobody got the nod from special teams.
"It's truly an honor because you're voted by your peers," Mayfield said.
Joe typed up those names and thought for a moment; how many NFL teams have eight players of that caliber?