Antoine Winfield Approaching Historic Mark
October 6th, 2023
Man, it was a beautiful thing for Joe to see from way, way, way up top in Lincoln's Tomb in New Orleans, the home of the slimy Saints.
Joe didn't need All-22. Joe had an All-22 view (albeit at the 50-yard line).
From Joe's perch in the rafters, Joe could see how Bucs safety Antoine Winfield was quite literally all over the place. Helluva game by the Minnesota product.
How good was it? Well, per Ben Yarrington of the Bucs' media relations department, Winfield was such a force, he's toying with setting an NFL mark.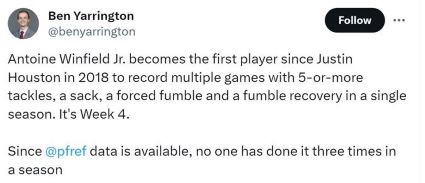 Joe thinks Winfield might be playing at an All-Pro level. Think about it, what safety through the first four weeks is making an impact on his team's defense like Winfield?
Pass defense, tackling, forcing turnovers, burying quarterbacks. What more do you want?
If Winfield keeps this up, he'll make major bank in a few months.