TV Map For Bucs-Vikings Game
September 9th, 2023
We are almost there! The 2023 regular season is just a Baker Mayfield short pass to Chris Godwin away. Joe can taste the Bromosa! And this season, Bucs fans and all NFL fans will have to change our long-held viewing habits.
For nearly 30 years NFC teams' road games have been broadcast on FOX. AFC road games on CBS.  Sunday marks a change.
Beginning tomorrow, teams can have road games televised on either CBS or FOX. It depends what network suits want.
So the Bucs will face the Vikings in Minneapolis on CBS (WTSP-TV, Channel 10 locally). Get used to checking "Gameday Tampa Bay" right here on your favorite Bucs site each Sunday morning so you don't get lost.
The Tom Brady era is over. How does Joe know this? Sunday's game will be broadcast only in the upper Midwest and in Florida. That sort of reinforces how little buzz there is for the Bucs nationally. No Brady, no Gronk, no Antonio Brown, no Playoff Lenny, who cares? However, the Bucs will be seen by more fans than two of the three other teams in that CBS time slot, including in Chicago and Detroit.
(Well, Joe sure as hell does!)
Since this is considered a lower-rung game by the broadcasting shot-callers, we get the practice squad dudes behind the mic: Andrew Catalon, Tiki Barber, Matt Ryan and AJ Ross will call the game.
Of course, Bucs fans can head to Big Storm Brewing in Clearwater (Ira will be there!), or Big Storm's other taprooms in Odessa, Cape Coral and downtown Orlando at the Amway Center. And naturally, visiting your neighborhood Hooters is always a wise move. Bonus: Select Hooters in Florida carry Big Storm Brewing beer on tap!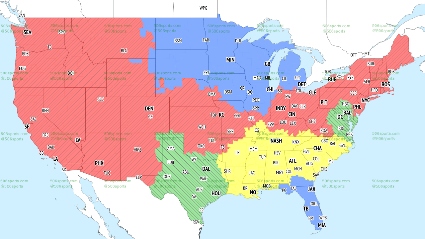 Blue: Buccaneers @ Vikings
Red: Bengals @ Browns
Green: Texans @ Ravens
Yellow: Titans @ Saints
As always the map is courtesy of 506Sports.com.