TV Map For Bears-Bucs Game
September 16th, 2023
Bears at Bucs. An old NFC Central rivalry renewed. Joe can taste the Bromosa!
Today's game will be on FOX. Locally, that's WTVT-TV Channel 13. Remember, Sunday afternoon Bucs games will bounce back and forth from CBS to FOX just about each week.
Unfortunately, tomorrow's game with the Bears will be broadcast over the air on free TV in Florida and northern Illinois, mostly. Baker Mayfield doesn't pull eyeballs like Tom Brady.
(Well, Joe sure as hell does!)
Joe Davis, Daryl Johnston and Pam Oliver will work the game for FOX.
If you don't live in Florida or northern Illinois, you'll have to get the Bucs game at your favorite watering hole or be a man and get YouTubeTV.
Of course, Bucs fans can head to Big Storm Brewing in Clearwateror Big Storm's other taprooms in Ybor City, Odessa, Cape Coral and downtown Orlando at the Amway Center. And naturally, visiting your neighborhood Hooters is always a wise move. Bonus: Select Hooters in Florida carry Big Storm Brewing beer on tap!
FOX Broadcast Map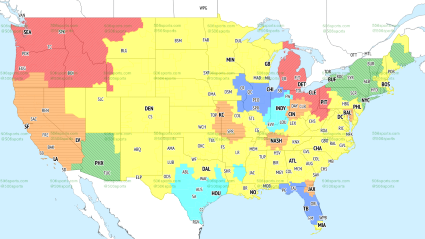 Blue: Chicago @ Tampa Bay
Red: Seattle @ Detroit
Yellow: Green Bay @ Atlanta
Light blue: Indianapolis @ Houston
Green: NY Giants @ Arizona (LATE)
Brown/Orange: San Francisco @ LA Rams (LATE)
As always the TV map is courtesy of 506Sports.com.